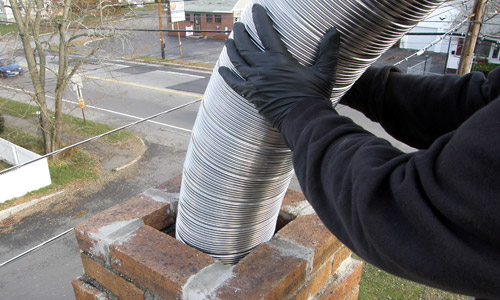 The Average Cost of Chimney Lining

The typical cost of having a professional line your chimney is around $2500. It could cost up to $10,000 depending on the type of chimney liner used. The typical cost of a DIY chimney liner installation is around $750, but the material can cost up to $3000.

What the chimney liner will be venting will have an impact on the expense of having it lined. The expense of lining a chimney for an appliance like a wood stove, furnace, boiler, or hot water heater is substantially less than lining a chimney for a traditional open fireplace. Due to the average liner diameter and parts, installing a chimney liner for a fireplace will be one of the more expensive jobs.

What Factors Influence the Price of a Chimney Liner?
The type of chimney liner will have an impact on the cost of the liner. You may be able to utilize a variety of materials for the chimney liner in some circumstances. The sort of material you use is usually determined by the type of device you're venting.

Material
The cost of lining a chimney is determined by the material grade of the chimney liner. Aluminum and other types of stainless steel are used to make chimney liners. The most expensive option for a chimney liner is stainless steel. Aluminum liners will be the most cost-effective. Both options have advantages and disadvantages.

Stainless Steel is a material that is resistant to corrosion.
304L and 316Ti stainless steel chimney liners are the most prevalent stainless steel grades. Stainless steel chimney liners will be the more expensive option. Stainless steel liners, on the other hand, are frequently required for most installations and provide numerous advantages.

Stainless steel chimney liners made of 304L stainless steel will be the most cost-effective solution. Only wood-burning stoves should utilize the 304L stainless steel liner. The average price is expected to be around $400.

Stainless steel chimney liners made of 316Ti are the finest quality stainless steel available for a chimney liner. Because of its superior corrosion resistance, it can be used with a wide range of appliances and fuels. A lifetime warranty is usually included with this type of liner. The average price is expected to be around $550.

Aluminum
Aluminum chimney liners are the most cost-effective choice for a chimney liner. Only use the aluminum chimney liner to vent a natural gas appliance with an efficiency rating of 83 percent or less. A warranty is normally not included with this sort of liner. The average price is expected to be around $200.

Installation
The cost of installing a chimney liner varies depending on whether you hire a professional or do it yourself. Placing a chimney liner on a three-story home will be more expensive than installing one on a one-story ranch home. If the roof is exceptionally steep, an articulating man lift may be necessary to reach the top of the chimney. A boom lift can cost up to $500.00 per day to rent. In some circumstances, however, it is worth it to ensure the installation's safety.

Installation by a professional
Hiring a professional to install a chimney liner will be much more expensive than doing it yourself. The cost of the chimney liner will be increased by the professional installer, who will also charge an installation fee. If the chimney is difficult to access or the roof is particularly steep, a scaffold fee or a man lift fee is usual, depending on the size of the house. If they notice anything amiss at the top of a chimney, they may offer additional treatments like as waterproofing or brick restoration. If you have a classic open fireplace, you may need to do more than just install a chimney liner in the firebox. Some costs associated with the installation of a chimney liner for a traditional fireplace include smoke chamber parging, damper replacement, and firebrick repair. The average price ranges between $2,500 and $7,000.

DIY
Do-It-Yourself chimney lining installation is a terrific method to save money. A liner can be simply put with a little research and investigation of your chimney. You may save thousands of dollars by installing a chimney liner yourself. All of the parts needed to install a chimney liner will be included in the DIY chimney liner kits. The majority of the equipment needed for the installation are basic household items that almost every DIYer already owns. If you don't already have them, you may need to buy some specialty tools like a pipe crimper, grinder, or masonry tools. Depending on the installation, this varies. The average price is between $400 and $1,500.

Which Chimney Liner is the Most Expensive?
A 316Ti stainless steel flexible chimney liner will, in the end, provide the best quality and value for money when it comes to lining a chimney. The 316Ti stainless steel chimney liner is suitable for almost any masonry relining project and comes with a lifetime transferable warranty. The kits take only a few hours to install and will save you a lot of money. Please contact SmartLiving Home Repair Services if you have any issues about your installation.

This article is accurate and true to the best of SmartLiving's knowledge. Content is for informational or entertainment purposes only and does not substitute for personal counsel or professional advice in business, financial, legal, or technical matters.