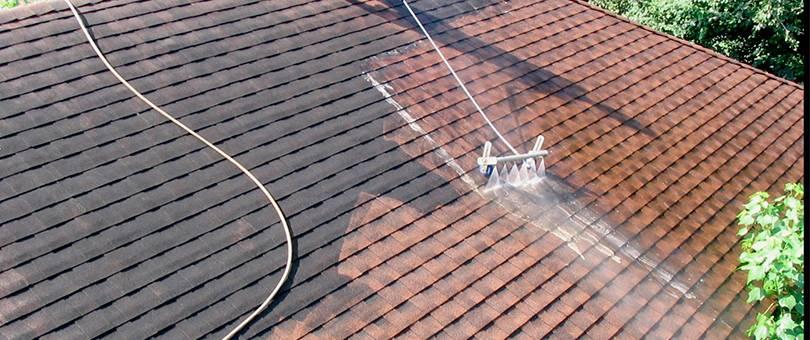 You may be ready to call in the reinforcements now that you have a better understanding of what roof cleaning entails. If you are concerned about using chemicals inappropriately and perhaps damaging roofing components, you may want to contact a professional to clean your roof.

The cost of roof cleaning is determined by the following factors:
Location
the difficulty of the job
Other relevant variables.
The Price of Roof Cleaning

Roof cleaning typically costs $0.15-$0.30 per square foot, or $15-$30 per square meter. This may cost between $250 and $500 for a roof with an average size of 1,500 square feet. It might cost $375-$750 for a larger 2,500 ft.2 roof.

Roof cleaning might cost anything from $250 to $1200 on average.
Roof cleaning can cost anywhere from $350-$1200, according to Angie's List. A roof with a greater size, an irregular shape, or a steeper pitch will cost substantially more. Additional cleaning fees may apply to roofs with algae or mold problems.

Getting Rid of Roof Cleaning Fees
Roof Shingles That Resist Algae
Installing algae-resistant roofing shingles beforehand is one technique to reduce the amount of time spent cleaning your roof. This update may be well worth the money if you reside in a humid section of the country. Remember that algae-resistant shingles might cost up to 20% more than regular asphalt shingles.

Installation of Zinc Strips
Last but not least, with zinc strip installation, you'll be able to avoid future algae and mold growth. A 50-foot roll of zinc strips can cost upwards of $50, not including the cost of installation.

Roof Cleaning by a Professional vs. Roof Cleaning by Yourself
Although spending close to $1000 on entire roof cleaning may seem excessive, it may be worthwhile if you lack the necessary tools, skills, or time to do it yourself. If you need a new ladder, garden sprayer, safety harness, or work gloves, for example, it could be better to get quotes from local roof cleaning firms rather than doing it yourself.

What to Look for When Choosing a Roof Cleaning Company

Keep the following guidelines in mind if you want to employ the best roof cleaner:

Consider the way they clean.
A roof cleaning firm should not advocate power washing since it can remove and void the guarantee of existing roofing materials, as we discussed in detail earlier in this chapter.

Learn about insurance.
Working on a roof, for any reason, is risky, and roof cleaning is no exception. Before setting foot on your roof, a roof cleaning company should be able to provide additional information regarding their worker's compensation and insurance policies.

Obtain price estimates.
Before making a final decision, receive at least three price quotations from local roofing providers. The cost will be determined by a variety of criteria and may differ significantly from one cleaning business to the next.

Inquire about the warranty.
If at all feasible, work with a roof cleaning provider that offers a warranty or guarantee. Learn what a corporation will do if mold or algae reappears in a short period of time.

References should be checked.
Finally, examine prior client references and request a portfolio of cleaning services with before and after photos as a precaution. Working with a roof cleaning business that has a long list of satisfied customers will help you protect the value of your investment.

This article is accurate and true to the best of SmartLiving's knowledge. Content is for informational or entertainment purposes only and does not substitute for personal counsel or professional advice in business, financial, legal, or technical matters.