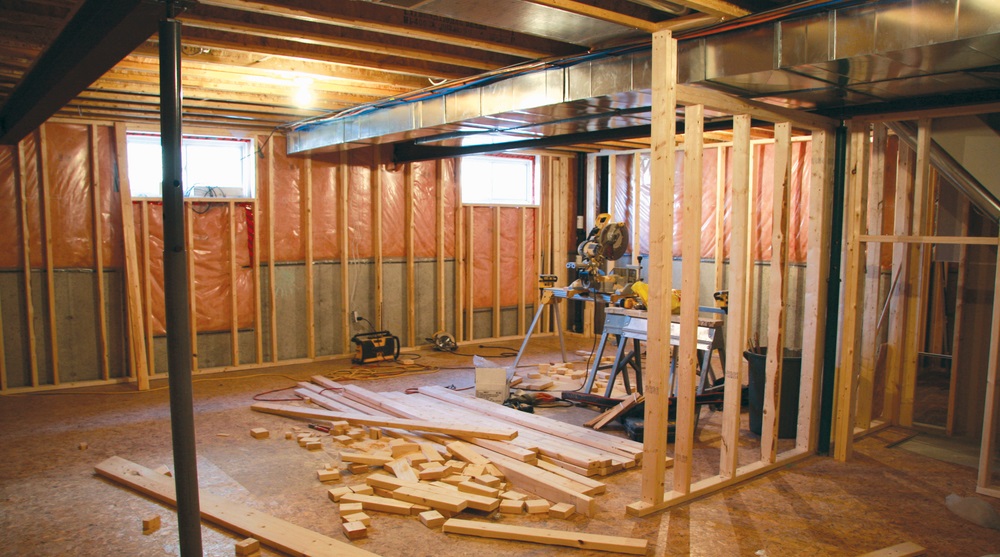 So, finally, you're ready to finish the basement and add more living space and value to your home.
But you don't know about the heating and cooling of your finished basement, or what that means.
You may ask questions about the costs and what you should expect when collecting bids from HVAC contractors.
You may have doubts as to whether your current system can even handle the increased load on it.
Or, you might also be wondering what kind of system is ideal for your home, or if it's worth doing a job!
Is it even worth heating and cooling your finished basement?
The simple answer—yes! For obvious reasons, be comfortable and make the most of your investment year round.
Why would you like to invest in finishing something you can use just a few months out of the year?
Don't forget – designing and installing the correct heating and cooling system for your basement adds value to your home.
Shoddy work, or no heating or cooling at all, doesn't do much for your home equity, and can even cost you a long time.
Can I add a new one to my current system or do I need a new one?
It's not an easy answer to that. Unless you are a mechanical engineer, or an HVAC technician yourself, you will need an expert to help you determine this.
There is a lot to consider when it comes to heating and cooling your basement.
The big one is, can your current system handle the additional load that you're about to put on it?
If you're lucky enough, the current system will be able to handle more capacity.
You may not be as lucky, but you still have 2 realistic options – upgrade your current system, or add an additional system that heats and cools the basement only.
If you add an additional system to the heat and cool the basement, you have a few options.
Ductless mini split systems have really become a popular choice over the last few years, because they offer a cheaper way to heat and cool the basements.
They also do not require ductwork to be run, which can reduce costs, AND they will retain space.
Upgrading your current HVAC system may also be a cost-saving option if you choose not to use a ductless system.
However, most likely you will still need to run ductwork to your basement living areas.
But beware, there may be some additional costs involved, so it's important to understand exactly what needs to be done when collecting quotes.
Also, adding a second furnace or air conditioning unit to serve your basement will most likely come with the cost of running additional ducting.
However, space may not be available to house the entire second duct system and HVAC equipment in your mechanical room, which may not even be an option.
What kind of HVAC system is right for My Basement, and what size do I need?
It really will come down to personal preference and what options are available to you.
As mentioned above, mini split systems have become increasingly popular in the heat and cooling of basements over the past few years.
But, I highly recommend that the contractor take a full look at your needs, and the size of your basement, before recommending anything.
The size of the unit you are going to need depends on the size of the area you intend to heat and cool.
You don't want to overpay for something that's too big, and you don't want anything that's too small.
This is just going to be a waste of your money (either way).
Expect 400 to 600 square feet per ton, but this may vary depending on your home and where it is located.
Every house can be different from that.
What should I take into consideration when designing a floor plan for my unfinished basement?
You are currently most likely to have a furnace, water heater, boiler, ventilation, or other type of HVAC or plumbing component in your unfinished basement.
When designing your floor plan, you need to consider exactly how to enclose this equipment, not only for esthetic reasons, but also for functional reasons, without completely closing it down.
The best finished basement designs incorporate a utility room or a mechanical room to hide this equipment.
Of course, most of this kind of work doesn't come without some kind of cost.
You may need to move your HVAC equipment or pipes.
Let's hope you're lucky enough not to have to do that, but you might want to wait for something.
Most of the mechanical rooms at bare minimum will require ventilation.
A good mechanical contractor (or even a general contractor) will be enrolled in the local building codes and requirements and will go over your options with you.
How much will I get the expert pay for all of this?
Of course, that's going to depend on what work you need to do with the HVAC.
According to HomeAdvisor, the average total cost of HVAC installation in Connecticut may vary from $7,000 and up.
We recommend that you receive a minimum of 3 quotes before you choose an HVAC contractor.
When choosing a contractor, do this wisely.
Look at the guarantees they offer, find out what others have to say about them on Google, Yelp!, the Better Business Bureau (BBB) and other review sites.
Well, in other words, do your homework!
Don't just choose a contractor on your own cost.
This article is paraphrased. Original source: countywide.com
This article is accurate and true to the best of SmartLiving's knowledge. Content is for informational or entertainment purposes only and does not substitute for personal counsel or professional advice in business, financial, legal, or technical matters.