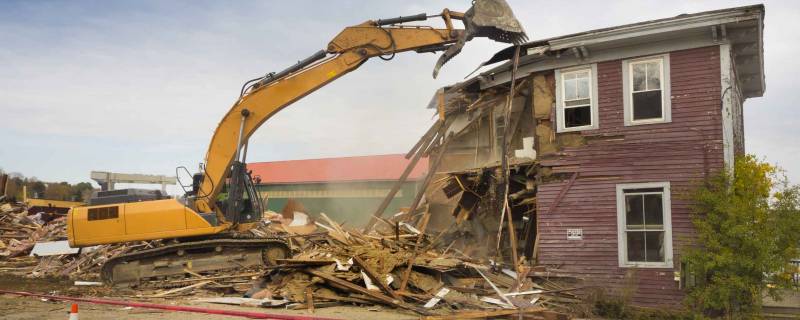 House destruction is a severe task. It might be enjoyable to perform some of your own demo work to relieve stress, and it can also save you money. However, there are many aspects of a whole house demolition that can be hazardous or necessitate the involvement of a trained professional to carefully remove the structure. You must also consider ancillary charges such as grading, debris removal, foundation removal, and hourly fees for the deconstruction of salvageable or recyclable things.

In general, a deconstruction will cost between 25 and 50 percent more than a standard comprehensive demolition. It is, however, an alternative for those who are financially or socially concerned and prefer to utilize materials or donate usable components rather than destroying them.

All building demolition projects require demolition licenses. Even if you are conducting the work yourself, you should call your city's building codes enforcement department to learn how much permits will cost and how to obtain them. Some demolition contractors may handle permissions for you, so make sure you inquire about this.

House destruction by a professional: 1,500 square foot home.
Standard demolition labor
($4-$15 per square foot)
$6,000-$22,500 for full demolition
Deconstruction
$24,000 and up
Building/Demolition permits
$200
Debris removal
$300-500 (if not included in estimate)
Foundation removal
$1,000-$5,000
Site grading per 1,000 square feet
$1,000-$2,000
Other costs and considerations
Homes built before 1985 may have asbestos and/or lead paint. Lead and asbestos testing may be required by your contractor to establish whether abatement is required. On average, lead abatement costs around $17,000 for a 1,500 square foot home. Asbestos removal costs $200 to $400 per hour, plus a $500 inspection fee.
You may be charged an additional fee of up to $5,000 if you need to seal off an outdated septic tank.
Depending on your location and property accessibility, you may need to plan for temporary structures, traffic re-routing, and road closures so that heavy equipment can safely arrive at the job site and finish the work. This may be handled by your demolition crew, although some companies may demand an additional fee for it.
Considerations for Do-It-Yourself
Simple demo chores like taking out cabinets, removing non-load bearing walls, removing appliances and built-in fixtures, and other small activities may often get you started on a demolition project and save you a lot of money in labor costs.
Never begin demolition near gas lines, electric meters, or other potentially dangerous utilities unless the utility companies have been notified. They will arrive at the premises and unhook or remove all utility connections. They will also mark the ground for underground utilities such as gas lines, power lines, and other hazards.
You CANNOT conduct the demolition yourself if your home contains asbestos or lead. These circumstances necessitate confined abatement techniques that must be carried out by skilled, licensed personnel.
References
Craftsman Estimator Costbook, entire 2019 series
The most recent prices were available on Home Depot and other vendor websites.
DIY Web sites literature review

This article is accurate and true to the best of SmartLiving's knowledge. Content is for informational or entertainment purposes only and does not substitute for personal counsel or professional advice in business, financial, legal, or technical matters.